Our unique Eternal Roses are treated to last and display beautifully up to two years.

Our Eternal Roses don't require any care; that means not having to water them! They bloom on their own.
The best way to keep your Eternal Roses looking fresh is to not handle them. Storing your Little Bloom Box in a shaded area, not exposed to direct sunlight or excessive heat will ensure long-lasting beauty. Here're a few more tips to get the most out of your Little Bloom Box:
Keep your blooms away from direct sunlight and heat. Heat will cause your blooms to dry faster and discolour. When your blooms are dry the petals may also fall faster as well.
Blooms are best kept in the box. Just like fresh roses when you touch them a lot it will become fragile, the petals may fall and die faster.
They are best kept in cool areas in the box
If you decide to remove the roses from the box they may dry faster and even bloom bigger.
Because the roses are preserved to last long they may shrink slightly after a couple months and may also have slight discolouration. This is normal. Keep in mind your blooms will continue to dry as time goes by but this doesn't mean they have died.
Just like real roses, your roses have not died until they have turned brown or began to rot. Chances are this won't happen for awhile so enjoy!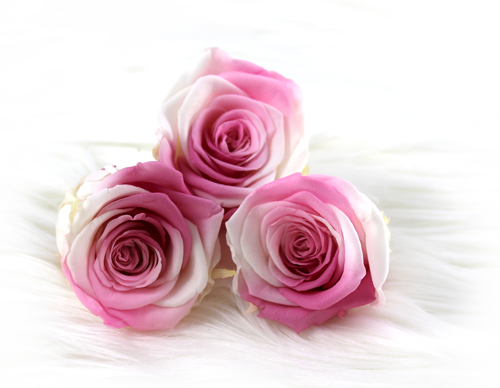 A RAINBOW OF COLOURS
We offer an array of solid & multicoloured roses, with dozens of combinations to make sure your Little Bloom Box is unique to you. Colours may not appear exactly as shown in images due to lighting.
OUR BLOOM COLOURS:
PEARLS
We offer faux pearls (silver and white) to the base of our 1-Rose, 3 Rose, 4-Rose, and 9-Rose clear acrylic boxes as an additional option.
STEMS
All Eternal Roses come standard with green stems. Gold and silver stems are available at an additional cost.
GOT QUESTIONS?
Shoot us an email at [email protected] or use our contact form.